How to guide
Welcome to Not Found On Basic guide
Wiki: What structure do we use?

With our resources of time, skills and money available in addition to an approximate number of future contributors, we decided on using a wiki structure for Not Found On. Whilst the most known use of a wiki is Wikipedia, they are also often used by companies, schools and academics to organise and share research. Wikis are not particularly sexy. They are clunky, can labour intensive, and totally have their limitations.

Still, they are a free and open-source tool that enables co-writing among large numbers of people and includes multiple media formats such as text, audio, and video. It is stable and relatively easy to install and to manage your own version. And, crucially, it has a large community sustaining the technology which is necessary for the longevity of the project.
We are currently looking for groups to help us build this guide. Get in touch with Aay via email hello@notfoundon.org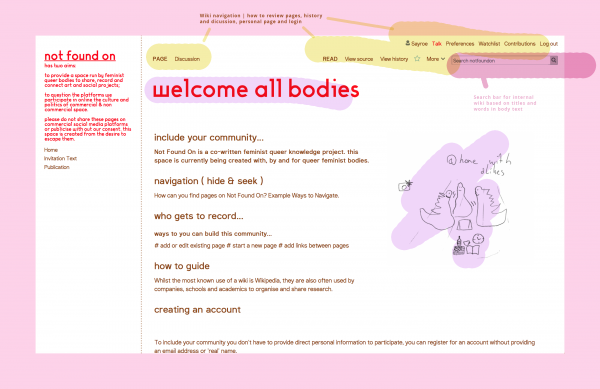 This page is created using media wiki and semantic media wiki:
How to add...
Create an account (can be anonymous)
Go to Create page
Complete as much as you want of the form : Add words, images, videos, audio that are meaningful to record
Find your own words, voice and style
complete in any language
You need to login in to add or edit a page*
Things to check before starting a new page...
does this page already exist? Please note page names are sensitive to capitalisation.For Example you can have: Andrew has his period & Andrew Has His Period as too separate pages due to that difference. So double check just to be clear.
if writing about a person, do i have their consent to include them?
should this be recorded? does this it benefit myself and others to share this?
Tools to build Wiki