Notfoundon:About
Not Found On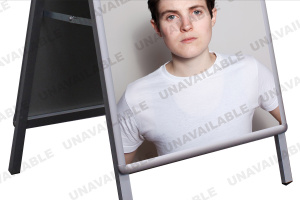 Aay Liparoto in collaboration with WORM, Just for the Record & Publication Studio Rotterdam
1 Why?
In an era of fake news and alternative facts, it is time to question how and where we gather our knowledge and how we can think differently about who gets to create knowledge and 'facts'? Feminist, Queer and Intersectional performance based researches act as sites of knowledge creation, by questioning both how we live and how we could live differently. Due to their transitory nature they have a great need to be recorded in the public domain, yet they struggle to fulfil the threshold criteria for Wikipedia publishing.


Open source structures such as Wikipedia can offer the illusion of inclusion, whilst maintaining normative patriarchal concepts of knowledge creation (via referencing structures) and system biases (predominantly male contributors). How can these criteria be fulfilled? Why have certain types of knowledge been marginalized from contemporary online encyclopedias?


I was invited by WORM's Pirate Bay Media Archive to create a record of my project Andrew Has His Period (See 6. Appendix ) this led me to examine how Performance Based Researches - performances sustained over duration in daily life with a specific aim in order to better understand a subject through experience - function as sites of knowledge creation and the problematic of how best to share and distil that new knowledge within the existing information architecture of Wikipedia as mainstream information source and what ultimately cannot be included and why.


2. What?
The Not Found Project will bring together diverse arts/activist professionals for a writing workshop to address the questions of knowledge creation and value on contemporary online encyclopedias, actively pursuing different strategies of writing into Wikipedia. Through this active process and drawing on previous experience/expert advice we will work together to co-create a 'how to guide' for writing marginalized knowledge into wikipedia. From this workshop we will create a new Not Found On platform to host the guide, support pages and acknowledge limitations of the current Wikipedia structure.



The project works 3 fold:


1. Wikipedia writing workshop to generate a 'how-to-guide' in entering 'alternative knowledge' Hosted at Worm Rotterdam in collaboration with Just for the Record & guests.
2. Develop an online platform to (a) host the strategy/guide (b) Cite pages that need assistance (c) To provide space for excluded knowledge via Not Found On open source publication series.
3. Create a publication template with Publication Studio Rotterdam for the book series Not found On for the types of information and images unable to be included on wikipedia.
2.1. Collaborative Wikipedia Workshop

To launch the project we want to invite 10-15 carefully selected people with expert backgrounds in Wikipedia writing, artistic research, gender focused event organizing/publishing, drawing from local and international professionals. The two day event will be held at Worm hosted with Just for the Record to create strategies for writing female, queer and experimental research into Wikipedia. The aim on the first day is to generate discussion and sketch out guidelines for artists networks to include themselves and/or document their environment working ie. artist run spaces, publications, queer spaces, film festivals. Actively reflecting on the difficulties presented by the 'No original Research policy' and how this disportionately affects those operating outside of 'verifiable' power structures (artistic / academic Institutions, publishing houses etc.)

We will not start from scratch but build from Just for the Records and Art+Feminism ground work of wikipedia editing/ writing to define principles specific to establishing networks for validation.

On the second day we will open up to wider members of the public, as this day will function as an edit-a-thon pursuing strategies of writing into wikipedia. We will use the material from Andrew Has His Period as a test resource working from the film, video diary archive, book, thesis and press articles to apply principles of how to write and test our provisional guide, improving and documenting potential barriers.
2.2. Create platform: Notfound.org
Notfound.org will support our writing action on Wikipedia via three sections structure: • Not Found On: Text and Video 'How to guide' • Help Needed: List of our Wikipedia Pages that are in need of additional contributors to meet verification standards, in order to remain visible online For Example: K8 Hardy • Not Found On: Publication Series. Featuring a template to create your own & downloadable pdf's of complete templates and a print function linked to Publication Studio DIY on demand print structure. The material created through the workshops will be formulated into a cohesive 'how to guide', including long term strategies and discussions on fulfilling/ subverting the format of wikipedia and hosted on the Not Found on platform. The main part of the guide will be text based to allow for easy updates, edits and contributions. It is important that the text based guide allows access to open source translation tools for wider access and participation. There is also a video component to the guide, which will be in English, this is an accessible, encouraging and understandable format, to articulate how and why more marginalised voice can contribute.
The purpose of the platform is:
• Encourage Women, queer and nonbinary people to become contributors (Video guide) • Explain why it is needed to record now (Video guide) • To offer a 'how to guide' to the best long term strategies to fulfilling/ subverting criteria (Text Based) • The 'how to guide' is accessible and editable • To create a list of pages which need additional support of verification • Offer a template for knowledge Not Found On book series to upload • Provide downloadable pdf's of Not Found On book series
The site will be created through 'Open Source Publishing Kitchen' tools, in consultation with Sarah Magnan from Just for the Record and hand in hand with Yin Yin Wong's publication design. The site would have a login function to allow contributors to add and grow. Whilst it is the focus to examine knowledge created by performance based research, this site can also function to support other types of alternative knowledge creation and those communities which they represent and support.
2.3. Publication Series: Not found On Working with Publication Studio, a small DIY publish house that works with open source format to enable cheap publishing on 4 continents. To create a roughly A5 pocket book format publication created with text / images that are simply not allowed on Wikipedia in relation to a specific entry, or to represent entire entries if they fail to fulfil the wikipedia publishing criteria. This format acts as a space to share knowledge and value through subjective storytelling which has often been marginalised in traditional canons of knowledge in favour of proven 'fact'.
The book would be created in line with the minimal aesthetics of Publication Studio and Designer Yin Yin's house style. The pocket book format is chosen for its low production cost but also as a format that generates a feeling of intimacy, a book that can be kept close but also hidden away. In many ways much like the historic illicit paraphernalia distributed by the Suffragettes and Stonewall, this series acts as a reminder that not all knowledge is valued equally. Outline
• Roughly A5 pocket book format publication • Working with Graphic Designer Yin Yin Wong @ Publication Studio to create template • Content created from the residual stories & experiences not captured in Wikipedia format ( In the first case of Andrew Has His Period )
• Template can be downloaded from notfoundon.org for others to create and share online or print to order through Publication Studio

• The book will be free to download in PDF via notfoundon.org 3. Partners
Aay Liparoto (Artist) WORM (producer) Just for the Record ( Co-Hosting / Web design) Publication Studio Rotterdam ( Print Design) I am interested in partnering with WORM Pirate Bay Media Archive, Just for the Record & Publication Studio Rotterdam as we are connected and driven by a need to record now, publishing and sharing alternative stories and media for free or for low cost internationally. WORM offers the space to host/create/ support the writing workshops but also comes with the challenge of how to expand further than their location based media archive. This leads us to the PS's international network of DIY publishing and also the vision and energy of YinYin ( Print Design) and diverse storytelling represented in her publishing selection as well as the low key design style which suits the content driven focus of the project. To support and implement the social strategy of the project I reached out to JFTR ( Co-hosting / Web design) as their ethos and thinking overlapped with our project. The aim is to co-host the workshop with JFTR and to draw from their technical/structural knowledge of wikipedia writing/ editing. Together they bring a wealth of dynamic opinions, open source design knowledge and a large network base connected to the artistic projects, spaces, publishers ect. based in France, Norway, Canada and Belgium.
Artist: Aay Liparoto [ www.aliparoto.com | www.pluralauthorshipcollective.com ] Aay Liparoto (1987, USA) was educated in Visual Arts in London and completed a MFA at KASK Ghent and makes work that researches vulnerability, subjectivity and the borders of life and performance. They use long term performances as a research, seeking social value creation through arts practice. Liparoto's first film Andrew a Strong Courageous Warrior premiered at the IFFR 2016. This film is one piece in a series of works titled Andrew has his period which includes a commissioned performance at the SMAK Museum Ghent and a solo show The Possibility of Being Other Than at Het Bos, Antwerp in May 2016. In 2017 Liparoto received the Flanders Kunstendecreet Development Scholarship to develop a new series of works reflecting on nuances of masculinity, love, social class. Liparoto also works collaboratively with Zed Morales as Plural Authorship Collective, currently they are in the post production of a film 'Don't Mention The Dolphins' produced by Animal Tank and funded by Flanders Audio Visual Fund. Liparoto lives and works in Ghent.
Producer: Frederic Van de Velde [ https://worm.org%7Chttp://thepiratebay.worm. org/aboutIhttp://www.deplayer.nl/ ] WORM / PIRATE BAY MEDIA ARCHIVE Almost three years ago WORM the Institute for avant-garde recreation established the Pirate Bay Media Archive: an offline and no fee lending archive with just a browsable database online and a unique preview space situated inside WORM's building. Guests can access the web based database via thepiratebay.worm.org, but in the end they need to cross things of their wantlist physically and in real person at the archive's service desk at WORM. Visitors can also take the chance to preview the WORM Pirate Bay archive in "DISPLAY", a multi-functional art-design-nonobject by Amy Suo Wu. "DISPLAY" facilitates reading, watching, listening and sleeping in a cocoon, all while on display. "DISPLAY" is all about display, it doesn't discriminate between inanimate objects and body as objects. The Pirate Bay Residency and Publication programs cover every kind of maker activity; from Barcode DJs (Jakub Pišek, Beata Kolbašovskš, Erik Bartoš) who make dance music from the humble barcode to nights focussed around how to use trash creatively (courtesy of FCKN BSTRDS) or survive a nuclear apocalypse with supermarket food. We also learned how to hack and multiscan by building a scanner which translates unique printed readers, informed by critical and feminist research methodologies and drawing on the legacy of the brilliant Oulipo, beloved of Georges Perec.
The WORM PIrate Bay project is runned by Frederic Van de Velde, who is programming, producing and operating the archives at WORM, and is also programming and producing for DE PLAYER. Frederic has a background in Fine Arts and graduated in 2014 at the KASK in Ghent, Belgium where he specialized in New Media arts. He will be following up on the production of the project from A to Z, and takes the leading role in assisting Liparoto. Co-Hosts: Just For the Record (Myriam Arseneault-Goulet, Loraine Furter, Sarah Magnan and Mia Melvaer) [ http://justfortherecord.space | https://en.wikipedia. org/wiki/Wikipedia:Meetup/justfortherecord ] Just for the Record We are investigating how gender is represented in new media and writing/publishing tools like Wikipedia, and how it influences the way history is recorded. With the importance that such platforms as Wikipedia have gained in our society, and the new writing and publishing tools they propose, it is becoming clear that history is being written down once again. Therefore it is of great concern when studies reveal that only 8,5 to 22.7% of Wikipedia's contributors are women. This problem was identified by the community itself as the Gender Gap. What is the problem they are trying to solve? • Inequalities and taboos around gender roles • The never-neutral recording and writing of history • The lack of female representation in editing-related and programming-related fields • The lack of connections between specialized groups Designer: Yin Yin Wong [ https://www.publicationstudio.biz%7Chttp://yinyinwong.nl/ then.html ] Publication Studio (founded in 2009 in Portland, Oregon) prints and binds books one at a time on-demand, creating original work with artists and writers we admire. We use any means possible to help writers and artists reach a public: physical books; a digital commons (where anyone can read and annotate our books for free); eBooks; and unique social events with our writers and Wom ,The Priate Bay Media Archive artists in many cities. We attend to the social life of the book. Publication Studio is a laboratory for publication in its fullest sense—not just the production of books, but the production of a public. This public, which is more than a market, is created through physical production, digital circulation, and social gathering. Together these construct a space of conversation which beckons a public into being.
4 Relevance/Significance Whilst much time is currently being devoted to re-editing history / amazing archival projects such as projects by Art + Feminism and BAL: Brussels Almanack Lesbian, Brussels, there is a need to develop strategies to record performance and action happening today to continue to challenge what is worth to be recorded. This is key to break the cycle of the vibrant energies of people only being 'discovered' and celebrated 20 or 30 years later where they are no longer a threat to systems in power. This silencing through lack of record in public domain, makes it harder for that knowledge to accumulate intergenerationally. I am driven to make these records more accessible/ networked as it is often a struggle to understand your position in a history when that history is not adequately recorded in relation to each other. Many of these performances are already on the margins which is why I feel strongly that they should be given a place in a mainstream record, therefore not to mirror the 'othered' spaces of IRL in the online space. However just because we are able to pool our collective resources in open source structures, is not to say our IRL biases, prejudices and power structures are not replicated online. For example sources written by women about women on self organised platforms are not recognized as 'reliable sources'. Therefore those artists and writers featured, often encounter issue of not being 'Notable' and whole communities can be excluded from wikipedia. I am interested in what the strategies are for how more women and queer works of art, magazines and spaces can be recognized in a referencing structure that relies of dominant power structures of established publishing houses and magazines to validate them. There is an even greater need to document and record these performances and art spaces in the moment as they often lack funding and may not physically last, often due to lack of funds yet this does not mean their contribution is not huge. Performance Based Research (PBR) act as vital interventions through which to open up discussions with public on such topics as intimacy, power, gender, race ect. These actions hold significance as it is often those who have less access and power to turn to less conventional means of investigation. Whilst our aim is to create these records and share this knowledge on Wikipedia, I am aware many attempts and strategies may not be successful. Yet It is only through active engagement that we can seek to address and highlight how the criteria disproportionately affect some groups
5. Aims Not Found On aims & ethos: • To question and challenge permissible knowledge on contemporary online encyclopedias • To actively create and test strategies for writing PBR into Wikipedia • To offer a how to guide to long term strategies to fulfilling/ subverting the Wikipedia criteria • Encourage Women, queer and nonbinary people to become contributors • Act as a hub/resource to link up creators, Artistic researches, Queer & DIY run Artist Spaces, and Publishers for a stronger reference structure • To apply principles of inclusion ie. working with designers, tools, fonts designed with and by women, queer and nonbinary people • To respect and Value the knowledge of partners and participants • Be aware of biases 6. Appendix
Artistic Research Andrew Has His Period:

In I Am Becoming (2014) I take myself as the subject in an auto-ethnographic visual investigation that expands from my own understanding of my gendered identity and sexuality. I am reimagining my sense of self around the premise of "What if 26 years ago they had said 'it's a boy', how would I be living differently? How would I interact with the world? How would the world validate me?" This 9 month long immersive performance explored the effects of normative gender performance through the embodied on three roles Andrew, Abigail and A. Andrew a Strong Courageous Warrior ( 2016 ) The short film documents the domestic aspect of the performance I am Becoming (2014 ) the title references the wikipedia description of the name 'Andrew'. The film takes a voyeuristic look at the daily life of Andrew and Abigail. They are increasingly becoming

one, alternating between male and female. Which of them is real? A. Liparoto studied the construction of identity and left womanhood to subsequently transform into a male and androgynous person. Filmed over nine months in the maker's apartment, real life becomes a performance in which it seems almost impossible to escape the fiction's power. The book Andrew Has His Period ( Anecdotes of Androgyny ) [2015] reflects through text and images on the multi-faceted nature of the 9 month performance 'I am becoming'. The book concerns itself both with the project and with questioning the limitations of expressing an experience. Playing with the notion of the anecdote as an incomplete and whimsical means of expression. Andrew a Strong Courageous Warrior premiered at the International Film Festival Rotterdam, 2016 and continued to show at 14 subsequent screenings. The project ( film, book and other works ) has been shown consistently over the past 3 years.