Welcome all bodies

Not Found On is a co-written feminist queer knowledge project.
This space is currently being created with, by and for queer feminist bodies.
How can you find pages on Not Found On? Example Ways to Navigate.
We start with an invitation to include your networks and practices to share with others.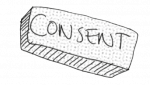 This page is created using media wiki and semantic media wiki:
To Employ Strategies of Care and Consent We Need to Develop Our Understanding of the Online Spaces We Participate In